Starting in 2013, some of Barbara Freedman-De Vito's fully illustrated original children's picture
books are being made available as large format (8.5" by 11") full color paperback books on Amazon
and through jobbers. Just click on the links for each title listed below. You can also see some sample
picture book covers and pages below.

Each picture book, perfect for young children from about ages 2 to 8, also includes a bonus draw
and tell story, where the story is repeated in the form of a drawing story, a lively and time-honored
storytelling technique which is very easy to use and requires no special materials or experience.
Clear instructions and a traceable drawing are included, as well, to help novices use the draw and
tell story with ease. In every draw and tell story, as the story is retold, certain elements are sketched
onto a single sheet of paper, while children look on. These simple elements build up on the drawing
until, by the time the story ends, a composite picture that represents the theme of the story emerges,
much to the children's delight. This form of draw and tell storytelling is great for parents, teachers,
babysitters and children's librarians. Author Barbara Freedman-De Vito has been creating and using
draw and tell stories for many years in her work as a children's librarian, freelance storyteller,
teacher, and workshop leader.



HOME TO MANY CATS

Meet Becky, Ollie, Teddy, Polly, Bonnie and many more in this collection of very special cats, each with
his or her own rhyme, own personality and own favorite room in a big old house. Home To Many Cats is
a happy book that's full of love and sweet simple poems that will leave you and your children smiling.
Above you'll find samples from this story, where there's a rhyme for every room in this rambling old
house. Which cat will be your favorite ?

HENS IN A HURRY

Hens in a Hurry is both a counting book to help young children learn to count the numbers from one to
twenty, plus a sweet preschool picture book about a flock of delightful hens who fill every day with fun
and action-packed adventures. There are numbers and hens everywhere and they're just waiting for
your children to count them. 
A MORE HUMANE MOTHER GOOSE

A More Humane Mother Goose is a retelling of some well-known Mother Goose nursery rhymes. It replaces
violence and cruelty with kindness and compassion towards both animals and other people, while retaining
the rhythms and playful spirit of the original Mother Goose rhymes. This sweet picture book (great for ages 
2 to 8) includes gentler versions of Mother Goose favorites such as Little Miss Muffet, Jack Sprat, Jack and
Jill, The Old Woman Who Lived in a Shoe, Sing a Song of Sixpence, Humpty-Dumpty, Fee-Fi-Fo-Fum, This
Little Piggie, and many more.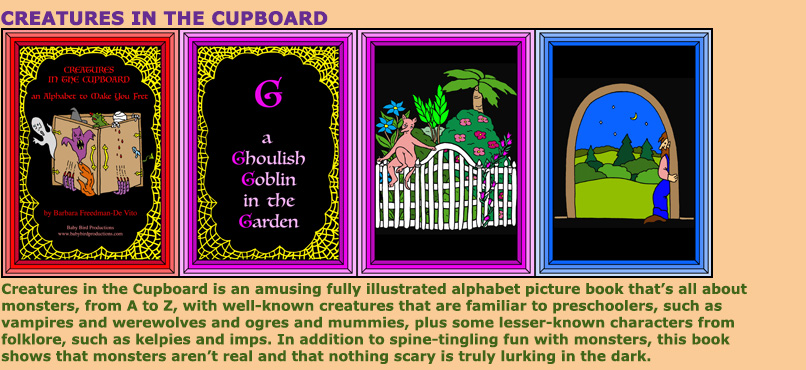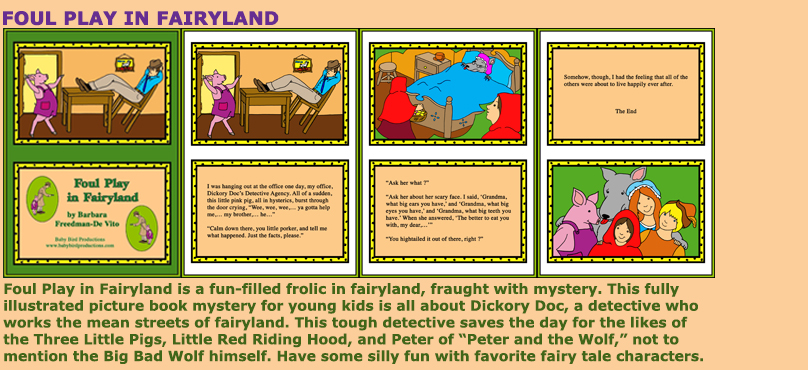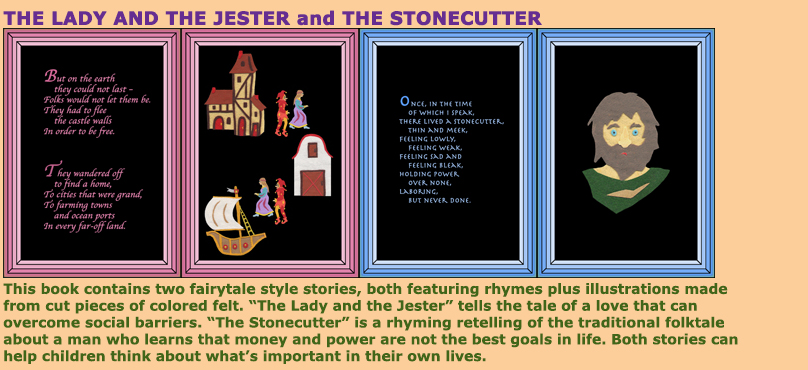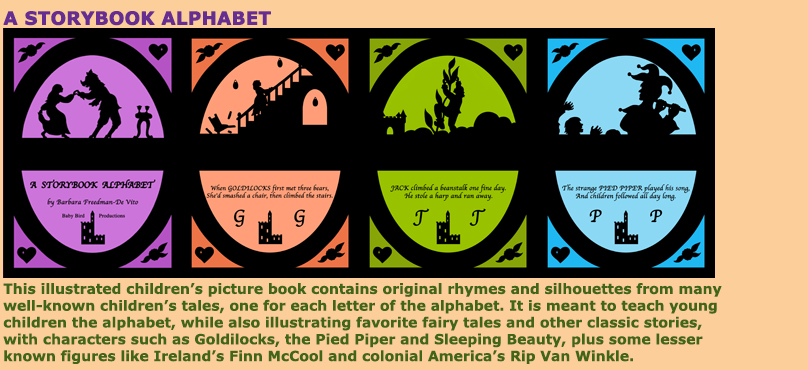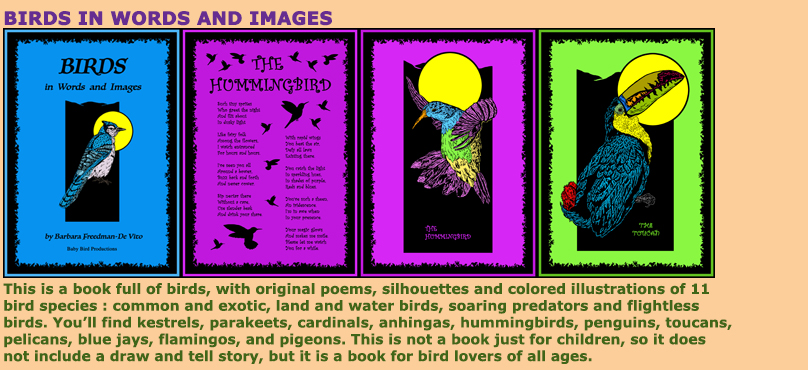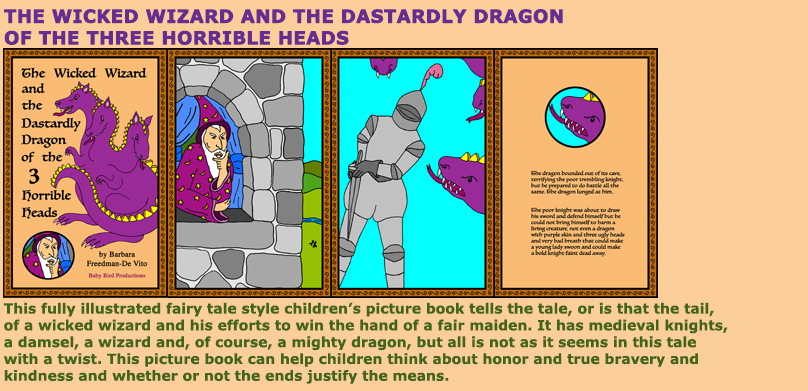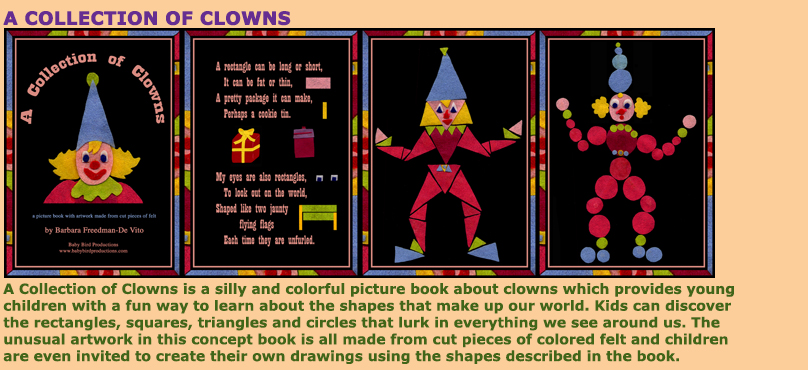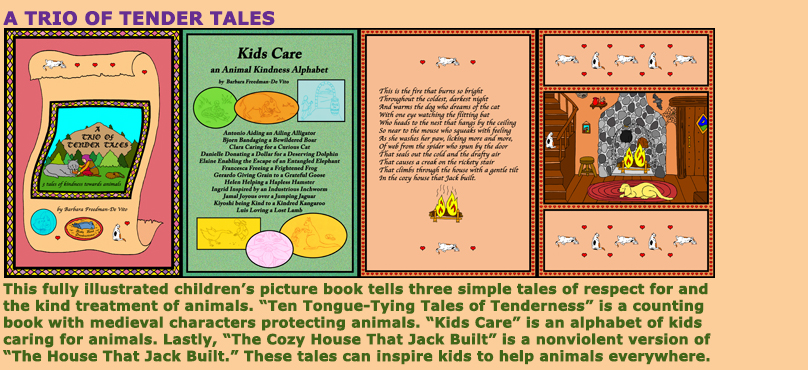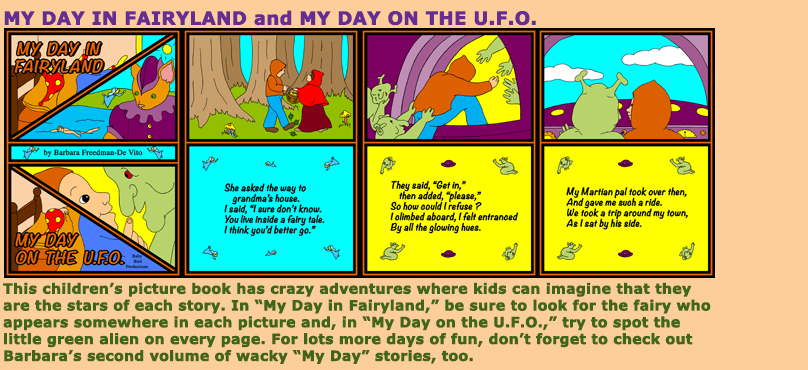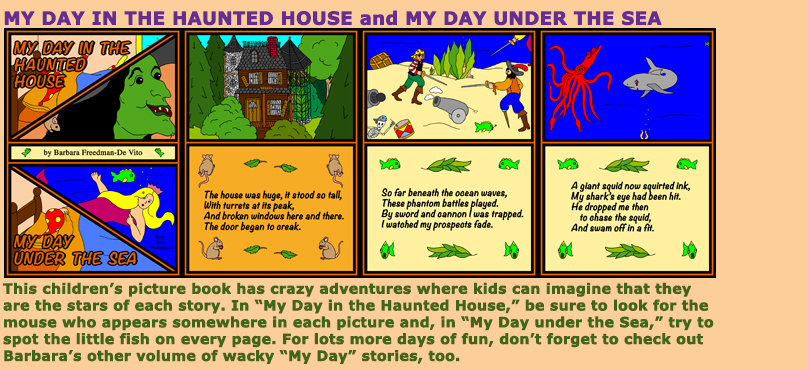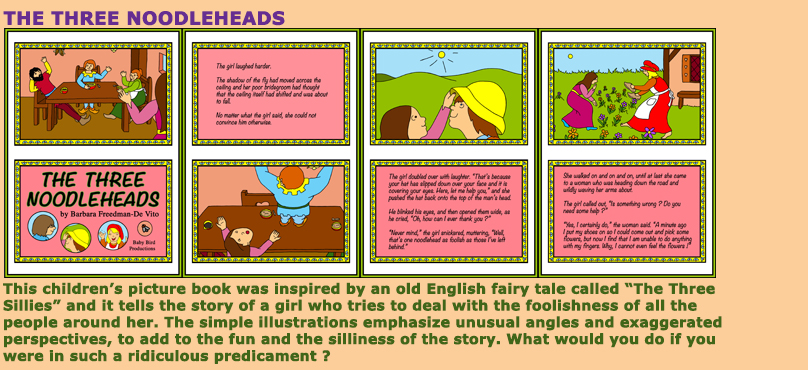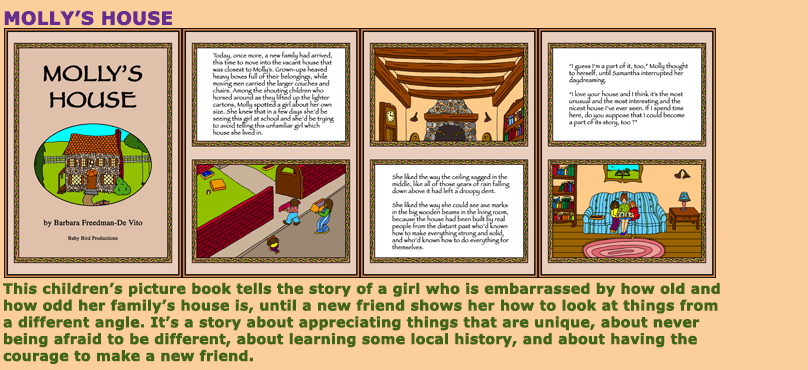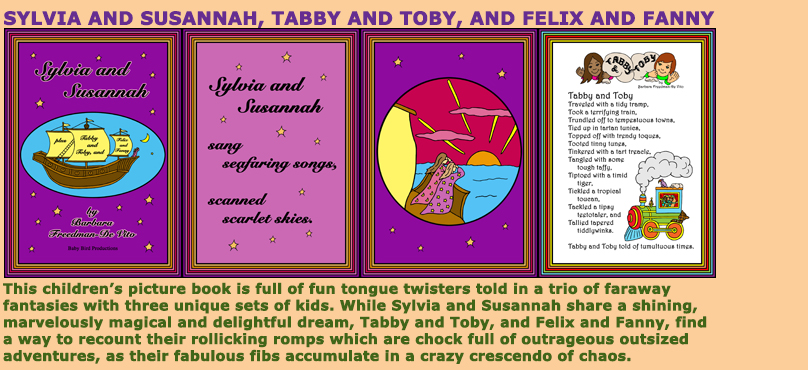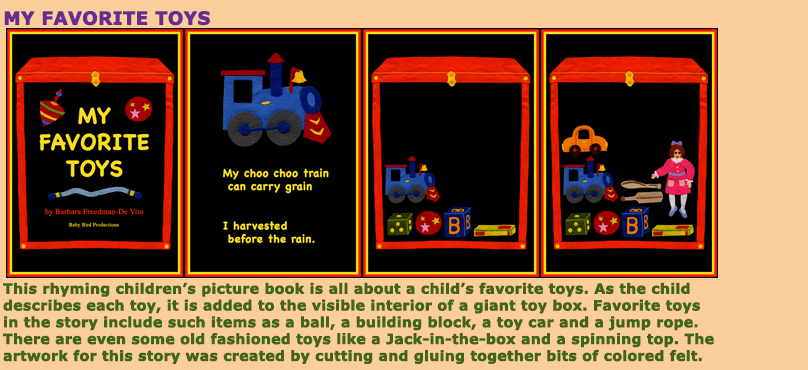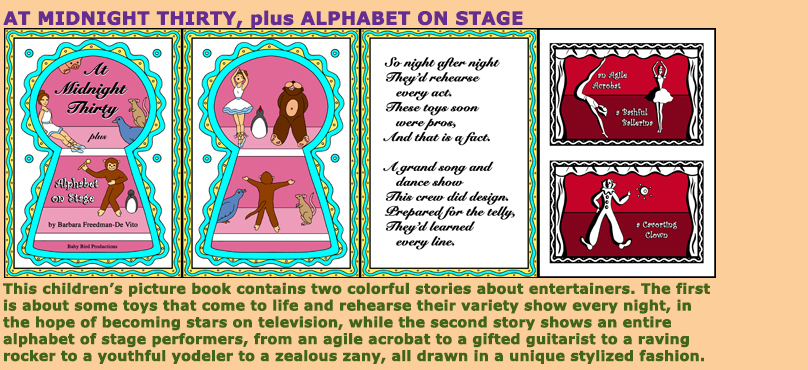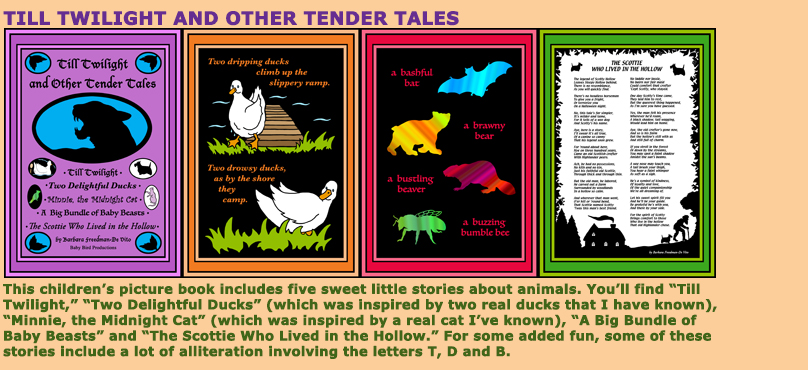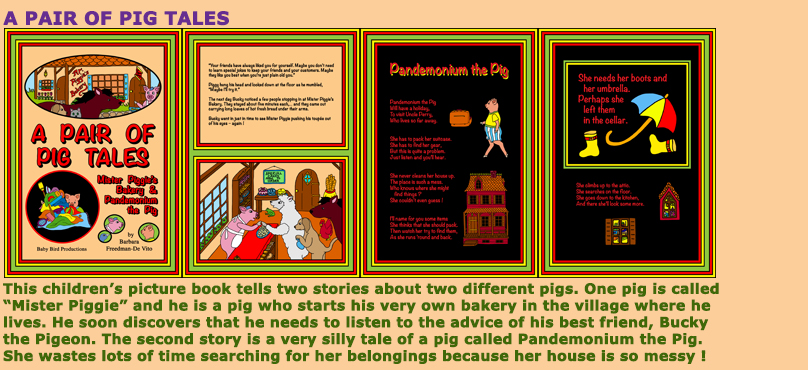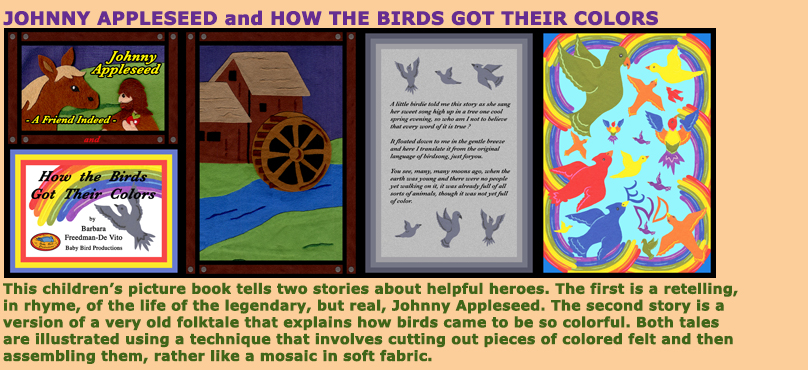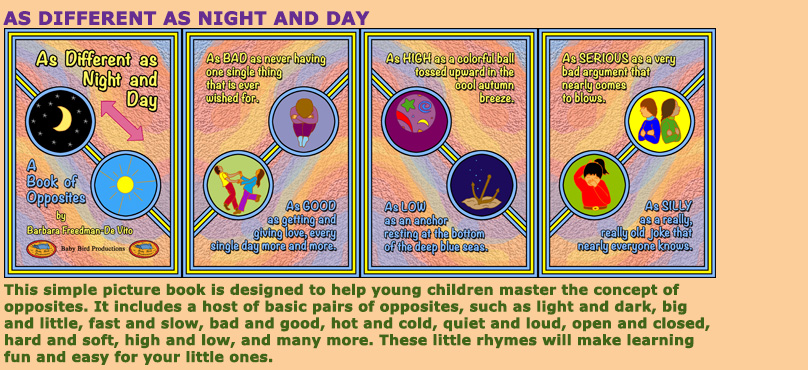 CHILDREN'S CLOTHING AND GIFTS WITH CUTE DESIGNS
(SOME DESIGNS EVEN COME FROM THE STORIES ABOVE)



Here at Baby Bird Productions we also have loads of cute designs for children and babies that come on kids
T-shirts, sweatshirts, jerseys, bibs, baby bodysuits, mugs, throw pillows and more. We even have Teddy
bears in tiny matching T-shirts. Special themes include alphabet T-shirts, holiday gifts, birthdays, childhood
milestones and plenty more.
With our T-shirts, clothing and gift shops, you can put together wonderful gift sets for everyone you know,
from newborns to kids to teens to adults of all ages. For example, your child might wear a cat T-shirt while
reading our story, Home To Many Cats, or have a wall clock that matches a picture from one of our children's
picture books. You might create a unique set of matching T-shirt, sweatshirt, cap and tote bag, all carrying
the same design, or you might buy a series of mugs, pillows, or other items, each sporting a different design
but all sharing one theme, such as a series of trains or planets or animals. You might even dress the entire
family in matching T-shirts or other items from BBP.


Baby Bird Productions also has free activities for kids and teachers and many free informative articles for
parents. Try Baby Bird Productions ( BBP ) for all the kids in your life.
   © Children's clothing, baby clothes and children's stories, plus clothing and unique gifts for the whole family from Baby Bird Productions  
   BBP shops. Copyright: Barbara Freedman-De Vito, since 2003. This site is protected by copyright internationally. All rights reserved.